Pennsylvania State Business Seminar at TCCI [Report]
 On November 6th, 2018, we held Pennsylvania State Business Seminar at the Tokyo Chamber of Commerce and Industry(TCCI) cosponsored by TCCI and Japan External Trade Organization(JETRO). Unfortunately it rained in the afternoon on the day, but despite bad weather many people visited the seminar.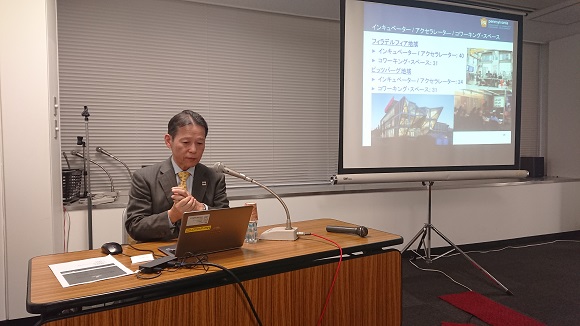 The seminar was organized in the following four parts.
 Lecture 1 "Latest trend of US economy and business environment"
                       Jetro Americas Division  Mr. Kimura
 Lecture 2 "Business environment & assistance system/promotion of inovation
                                in Pennsylvania"
    
      Commonwealth of Pennsylvania Japan Representative Office  Satoh
 Lecture 3 "SME's entry to the US-Shortcut to success, learning from failed
                                   cases"
               Japan Technology Group Director Mr. Yamamoto
 Lecture 4 "Advance form to the US and employment circumstances"
      Pasona International Business Plannning Department  Mr. Udagawa

 Participants were taking notes hard and during Q&A, questions for specific advancement were asked. At today's seminar, we got a voice that 70% matters have been resolved for the issues and at the networking time, participants were exchanging the latest information on the United States.

 We will continue to make efforts to be able to deliver more useful information.