Investment Promotion in Japan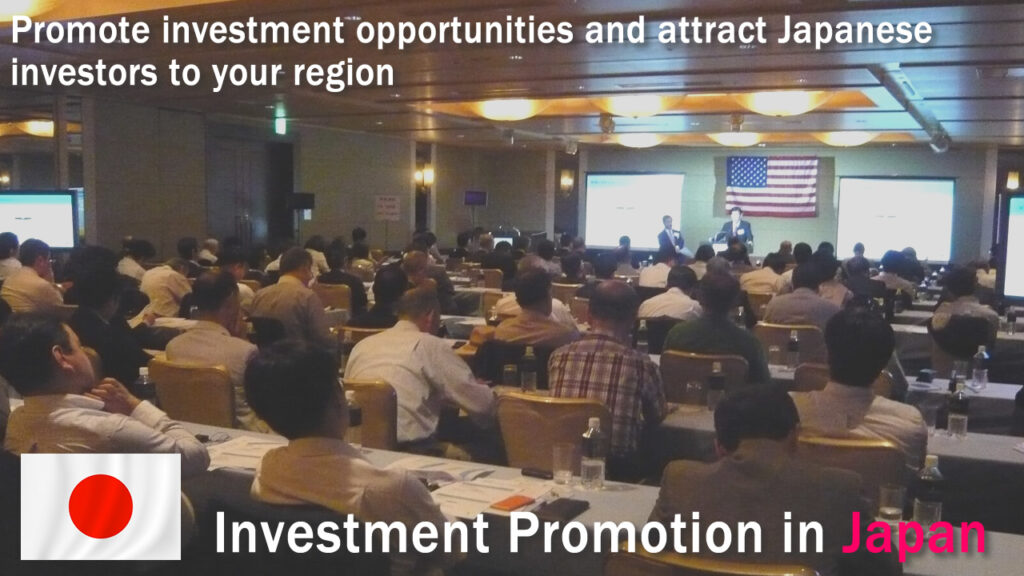 Due to Japan's low economic growth rate, many Japanese companies in various industries are seeking opportunities outside the country. The market has a fundamental problem with its rapidly aging population, which will eventually result in a decrease of consumer demand and workforce at the same time.
 We work on behalf of the public sector around the world to attract Japanese investment into its region in order to generate more employment opportunities and tax revenue. The service includes all necessary activities of investment promotion, such as hosting business seminars, participating in trade shows, driving web marketing and PR campaigns, as well as conducting one-on-one meetings. We currently run the Japan investment office of the Commonwealth of Pennsylvania and Enterprise Florida, and used to work for Business Birmingham from 2016 to 2018.
Investment Promotion in Japan – Marketing Acitivities
 We provide our clients with various types of marketing activities as follows:

1. Business Seminars
 We hold business seminars on the topic of investment opportunities and market entry support. Relationships with JETRO (Japan External Trade Organization) and The Tokyo Chamber of Commerce and Industry help promote seminars to be well attended by many Japanese companies interested in making direct investment into other countries.

2.Trade Show
 The greater Tokyo Area has several exhibition halls in which numerous trade shows are held. We choose trade shows based on the strengths that our client has to offer. On occasion, we may choose not to have our own booth but to visit target companies' booths for cost efficiency.

3. Web Marketing
 The most efficient promotion nowadays is usually done on the Internet. We prepare and update the Japanese version of our client's websites and promote investment opportunities. Our expertise, SEO and SEM, works well to maximize the effect of this activity.

4. Public Relations
 The Japanese media has recently shown strong interests in business opportunities in other markets, so it is not difficult to be in magazines or newspapers. Media exposure is the best advertisements in this conservative society.

5. One-on-One Meetings
 The most important activity in investment promotion is sales, persuading a prospective investor to take a chance. We often arrange one-on-one meetings by emails or sometimes cold calls with specific companies within the target industries. Our sales experience and ability for foreign clients really help this essential activity.

 



Who We Are – Fenetre Partners
 Fenetre Partners is a leading consulting firm of trade, investment, and international marketing, based in Tokyo, Japan. Our clients range from governmental organizations to private corporations in the US, Germany, UK, Australia, Singapore, Hong Kong, South Korea and Japan. Our expertise is deep and varied, complete with a solid understanding of the Japanese market and its business culture, which is essential to businesses desiring to enter this market. Founded in 2008, Fenetre Partners employs 31 staff members and has conducted international projects for over 350 companies in the past 13 years.
Fenetre Partners, Ltd.
INAC Bldg. 4F, 5-18-23, Roppongi, Minatoku, Tokyo 106-0032
TEL: +81 3 6697 4871
FAX: +81 3 4496 6035
E-mail: Please click Here