Trade Mission Support in Japan
Trade Mission Support in Japan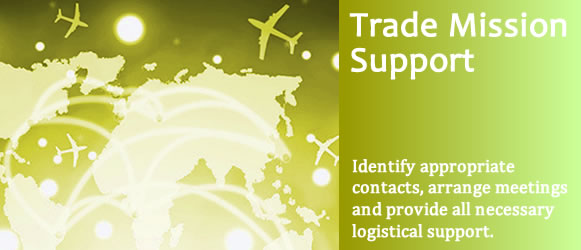 Many companies are rushing to emerging markets that show high economic growth rates, but their market sizes are usually under 10% of the Japanese economy, which is ranked the third largest in the world. Undoubtedly, Japan has faced serious problems caused by the large earthquake in 2011. However, Japan has been on a gradual recovery, maintaining stable economic growth, and the 2020 Olympic games in Tokyo will boost its economy.

 We offer trade mission support or market visit support in Japan for our clients by providing appropriate contacts with both the private and public sectors, making meeting arrangements with potential business partners, and arranging all logistics including transportation and accommodation.

 We are currently an authorized trade consultant in Japan for Virginia Economic Development Partnership and have experience of working for trade delegation organized by The Iowa Economic Development Authority.


Trade Mission Support in Japan – Sample Schedule
Day
Time
Activities
Day 1
Afternoon
Arrival
Evening
Economic briefing and welcome dinner
Day 2
Morning
Business seminar and meeting with public sector
Afternoon
Market site visit tour
Evening
Free time
Day 3
Morning
One-on-One meeting with potential business partner
Afternoon
One-on-One meeting with potential business partner
Evening
Free time
Day 4
Morning
One-on-One meeting with potential business partner
Afternoon
Wrap up meeting
Evening
Farewell dinner
Day 5
Morning
Departure

 This service supports a delegation or trade mission of governments, trade organizations and industrial groups, which usually consists of 4 to 8 companies. The service provides all arrangements of seminars, tours, meetings, dinner, transportation and accommodation. Participants can effectively learn Japanese business environments effectively and find business opportunities through those activities that we arrange.



Who We Are – Fenetre Partners
 Fenetre Partners is a leading consulting firm of trade, investment, and international marketing, based in Tokyo, Japan. Our clients range from governmental organizations to private corporations in the U.S., Germany, Korea, Singapore, Hong Kong and Japan. Our expertise is deep and varied, complete with a solid understanding of the Japanese market and its business culture, which is essential to businesses desiring to enter this market. Founded in 2008, Fenetre Partners employs 18 staff members and has conducted international projects for over 170 companies in the past 8 years.


Fenetre Partners, Ltd.
INAC Bldg. 4F, 5-18-23, Roppongi, Minatoku, Tokyo 106-0032
TEL: +81 3 6697 4871
FAX: +81 3 4496 6035
E-mail: Please click Here