Japan Market Entry Consulting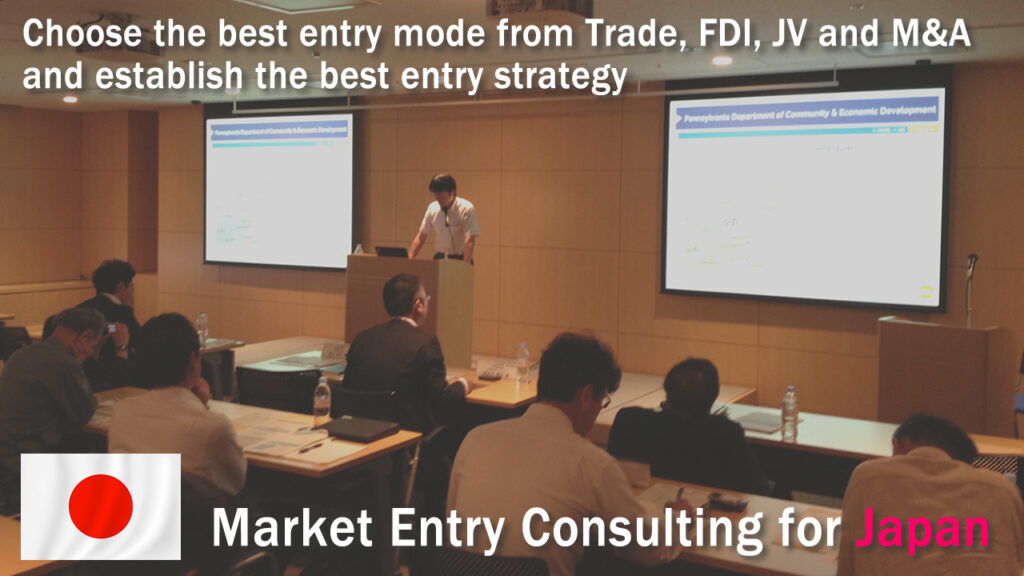 You might have negative impression on the Japanese economy due to its very low growth rate, about 1 % a year. That is half true and half false. There's the light and shade behind this situation. Actually, population has started decreasing in 2008 and this fundamental change affects on the number of consumers and workforce in the Japanese domestic market. It is true that industries heavily leaning on the domestic market are struggling with this situation while some very international industries are thriving by global expansion. For example, retailing is not doing well but automotive is growing steadily in general.
 The important viewpoint is whether or not your target customers in Japan are growing. You don't need to worry about the size of the market because Japan is still the 3rd largest economy. It's worth for your company to consider the market entry into Japan if you find some thriving segments in your target market and industry. As the first step, we recommend you to review the marketability by contacting your potential customers to get the market information and make a decision of market entry. Entry strategy is led from the conclusion of the market study and entry mode will be determined by regulations and market requirements.
Japan Market Entry Consulting – Process
 The process of Japan market entry consulting consists of market study, market entry strategy planning, and implementation of the option of entry mode you have chosen. our firm can support you on full process of market entry or parts of it on your requests.

 

 

 

 
 The first step is market study for verifying the marketability of your products and services in Japan. Our firm offers the research on both the secondary and primary data in order to make clear the feasibility of your business in Japan by understanding the market needs and its competition.
 
 The second step, entry strategy planning follows. The outcome of the first step will determine the functions you should have in Japan and recommend you the best choice of entry mode.
Finally, our firm helps you implement your entry strategy on your decision which is chosen from various kinds of entry modes such as trade (finding a right distributor), outsourcing (sales rep), FDI, JV and M&A. In most cases, you are required to have your own staff who works on sales, marketing and technical support from Japanese customers and distributors.
 
 We usually recommend outsourcing base as the first step of test marketing of market entry and then you can go forward to establish your own entity after your business starts expanding.
Who We Are – Fenetre Partners
 Fenetre Partners is a leading consulting firm of trade, investment, and international marketing, based in Tokyo, Japan. Our clients range from governmental organizations to private corporations in the US, Germany, UK, Australia, Singapore, Hong Kong, South Korea and Japan. Our expertise is deep and varied, complete with a solid understanding of the Japanese market and its business culture, which is essential to businesses desiring to enter this market. Founded in 2008, Fenetre Partners employs 31 staff members and has conducted international projects for over 350 companies in the past 13 years.
Fenetre Partners, Ltd.
INAC Bldg. 4F, 5-18-23, Roppongi, Minatoku, Tokyo 106-0032
TEL: +81 3 6697 4871
FAX: +81 3 4496 6035
E-mail: Please click Here