Recruitment & Headhunting in Japan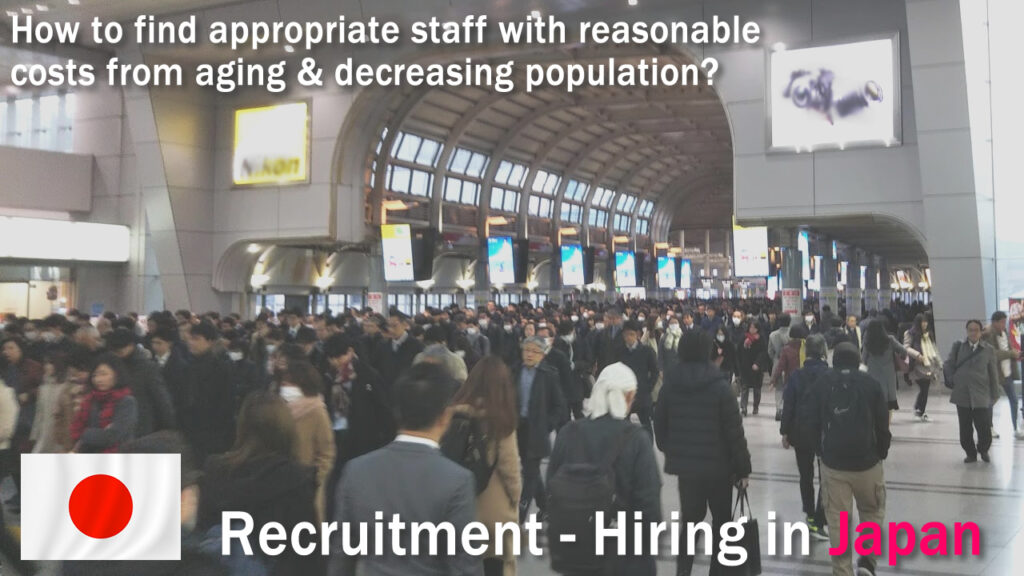 It's challenging to hire your first employee in Japan due to many differences in working culture and labor market structure from you home country. Your requirements for the US and Europe don't work properly. Recruitment agencies charge 30-35% of his/her annual salary. The number of bilingual workers in the labor market is very limited. Many bilingual professional job hoppers are trying to deceive American and European companies.
 We, Fenetre Partners is not a recruitment agency which tries to sell expensive job hoppers to you but a market entry consultant with deep knowledge in recruitment in Japan. We work on our clients side for their success in Japan while usual recruitment agencies work as an intermediary between your firm and job seekers. We have strong capability to fully understand your strategy & objectives in the Japanese market and cultural gap between your expectation and reality in the labor market so that we can optimize your recruiting activities and help you hire the most appropriate talent with reasonable costs for your successful market entry into Japan.
Our Value Proposition on Recruitment Support in Japan
Focus on industrial fields such as components, machinery, devices, tools, material, software, etc.


Focus on recruitment of your first employee or small team for business development in Japan


Focus on sales, marketing, service engineer and back office


Advice with cultural interpretation between Japan and your home country


Deep knowledge and insights for finding high performers and rejecting professional job hoppers


Work as a market entry consultant on your side to hire the best person with reasonable costs


Reasonable fee structure: success fee 1.5 million JPY + 10% of his/her annual salary


Can work on your company registration such as KK or LLC if needed


Suggest different options such as finding a distributor, sales rep and M&A if appropriate


Provide incubation office service if you'd like small start with low costs

 
Recruitment & Headhunting Process – Hiring in Japan
 We offer our recruitment & headhunting services in the following manner:

1. Consulting
 First, we analyze your requirements to optimize to the Japanese market because the education system, working culture and career design in Japan are far different from the US and Europe. For example, you should not expect double master or doctor degree in social science fields including business. You never find such a person or have to pay super expensive salary if you are stuck with your original requirements.

2. Registration to Media
 Next, we register some recruitment media including the public recruitment organization "HelloWork" to advertise your job offer on their listings. Our approach is combination of push and pull marketing in order to cover different demographics.

3. Candidate Search
 Then our staff work on candidate search in a proactive way to find appropriate talents on wide range of sources including our own database. It usually takes a few months to get several appropriate applications.

4. Pre-screening
 CVs submitted from candidates are reviewed and prescreened by us in order to select best candidates. We also have an initial video call with the candidates to choose several best candidates at this stage.

5. Screening
 Our firm submits selected CVs to you with a report including pros and cons of each candidate and our recommendation. You can review the report and prioritize them.

6. Interview
 You are invited to interviews with candidates on a video call. Our staff joins the call as well for supporting your selection. We also provide you with cultural interpretation for your deep understanding.

7. Following Up
 Video calls are organized between you and our consultant to discuss impression on candidates. We give you an advice how to choose the best candidate from our viewpoint. The candidates are also followed up by our staff.

 
Who We Are – Fenetre Partners
 Fenetre Partners is a leading consulting firm of trade, investment, and international marketing, based in Tokyo, Japan. Our clients range from governmental organizations to private corporations in the US, Germany, UK, Australia, Singapore, Hong Kong, South Korea and Japan. Our expertise is deep and varied, complete with a solid understanding of the Japanese market and its business culture, which is essential to businesses desiring to enter this market. Founded in 2008, Fenetre Partners employs 31 staff members and has conducted international projects for over 350 companies in the past 13 years.
Fenetre Partners, Ltd.
INAC Bldg. 4F, 5-18-23, Roppongi, Minatoku, Tokyo 106-0032
TEL: +81 3 6697 4871
FAX: +81 3 4496 6035
E-mail: Please click Here