FDI, JV and M&A Support in Japan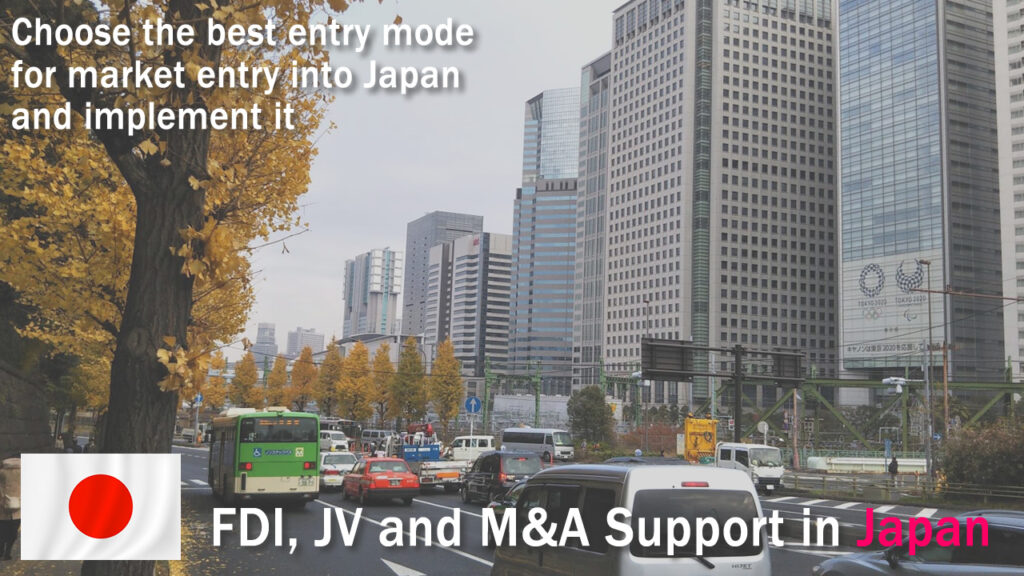 Japan is the destination as an ideal market for international businesses with such capabilities as high quality, unique technology and valuable brand. If your products require neither high tech service nor rich customer experience, just finding a distributor can be a solution for market entry into Japan. However, in most cases, it's better idea for international companies to have their own presence and staff who is Japanese and understands the cultural difference between Japan and your home country in order to serve local customers in an appropriate way.
 There are three options for establishing a local entity, which are Foreign Direct Investment (FDI), Joint Venture (JV) and M&A (Measure and Acquisition). Our firm analyzes pros and cons of all options based on market study and helps a client make a decision to choose. In the case of JV and M&A, we support you with target screenings, partner assessments as well as supporting negotiation and closing deals. For registration of FDI, we work with a lawyer to prepare necessary documents and submit it to the government as well as help our client set up its office, hire an accountant and recruit local staff.
FDI, JV and M&A Support in Japan – Options and Decision
 The first decision about entry mode is whether or not a company has an office and its staff in Japan . If you find an appropriate importer and don't need to support their sales and technical support activities, you don't need to have any functions in Japan. What you should do in that scheme is just to export your products to your partner in Japan.
 However, in reality, you are usually required to have your office and staff to provide your customers and distributors with support on marketing, sales and technical service in most of industries in Japan. In addition, a good partnership sometimes accelerates your growth in a new market by forming the scheme of JV or M&A, which should be considered as very powerful options.
 If there's no good candidates for JV and M&A, you will have the three options for setting up your business in Japan, which are liaison office, branch office and subsidiary company. The best choice depends on what your Japan office does so that you need to analyze regulations and costs of the three options and at the same time to design the functions of your Japan office.
 Our office helps you analyze market condition in Japan and advise you to choose the best entry mode among various options. Of course we prepare all the necessary information you review, arrange partnership with candidates for JV or M&A and help you implement the option you have chosen by helping you setting up an office, hiring an accountant and recruiting local staff.
Who We Are – Fenetre Partners
 Fenetre Partners is a leading consulting firm of trade, investment, and international marketing, based in Tokyo, Japan. Our clients range from governmental organizations to private corporations in the US, Germany, UK, Australia, Singapore, Hong Kong, South Korea and Japan. Our expertise is deep and varied, complete with a solid understanding of the Japanese market and its business culture, which is essential to businesses desiring to enter this market. Founded in 2008, Fenetre Partners employs 31 staff members and has conducted international projects for over 350 companies in the past 13 years.
Fenetre Partners, Ltd.
INAC Bldg. 4F, 5-18-23, Roppongi, Minatoku, Tokyo 106-0032
TEL: +81 3 6697 4871
FAX: +81 3 4496 6035
E-mail: Please click Here