E-Commerce Support in Japan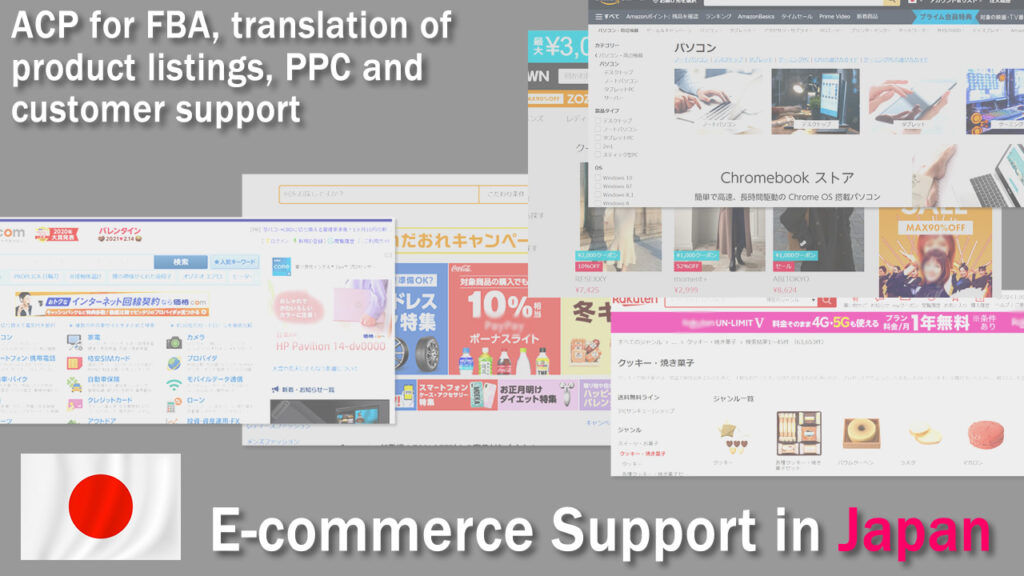 The market size of E-Commerce in Japan has been rapidly growing in the last decade and is predicted to keep growing in the next decade as well. According to Nomura Research Institute, the market size in 2014 was 12.6 trillion JPY and predicted to become 25.6 Trillion JPY in 2021. The major players are Rakuten and amazon Japan and these two companies occupy 44% market share in EC industry in Japan so that the options for market entry through EC are very obvious. You should register your products on Rakuten and amazon Japan.
 The best way to start selling your products online in Japan is to utilize FBA, Fulfilment by Amazon. What you need to do is to register your products on amazon Japan in Japanese language and ship your products to the warehouse of amazon Japan. Other operations are same as you have been doing with your local amazon. If you have found opportunity for further business expansion, you can open your store on Rakuten and deliver your products to Rakuten customers from the amazon warehouse.
E-Commerce Support in Japan – Advantages
 The distribution channel for consumer goods in Japan is always complicated with many layers. The reason of this structure is that retailers require just in time delivery which is very frequent so that a limited number of distributors is allowed to deliver products to their stores in order to avoid congestion at backyard of stores. Thus you have to ship your products to warehouse of a particular distributor nominated by retailers, not to stores directly. However, you will have a problem that distributors don't import your products by themselves due to its conservative culture. You have to find an importer who has relationship with retailers and distributors and sell your products to that importer. As a result, you have to have two layers between you and retailers and the problem caused by the two layers which add their margins on your wholesale price. $2 can be $12 at shelves of retailers in Japan.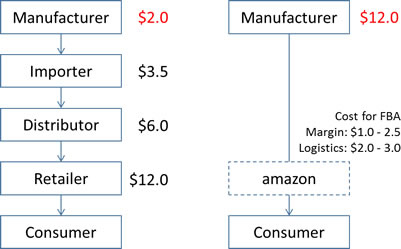 On the other hand, you can directly sell your products on amazon with paying margin and logistic fees to them. The amount you pay depends on the type and size of your products and will be roughly $3.0 to 5.5 when you sell at $12.0. The gross margin will be $6.5 to 9.0 on amazon while that will be about $0.5 on the traditional distribution channel. Of course you need to pay service charge to consignee and EC vendor like us but it is obvious that your business can be much more profitable on amazon than the traditional way.
E-Commerce Support in Japan – FBA Assistance
 Our firm offers the wide range of service for FBA including importing support, product registration, translation and adaptation of product description, public relation, and customer support which are necessary to your business on amazon Japan.
1. Regulation Research


 Before exploring opportunities on amazon Japan, it is recommended that you understand the trade regulations including restriction, application form, customs clearance, necessary documents, etc. to verify the feasibility of importing your products to Japan. Our firm conducts research and contacts the government on your behalf.

2. Importing Support (FBA)
 When you ship your products to the warehouse of amazon Japan, you need to have an importer because Amazon does not become an importer of your goods. You have to assign an Attorney for Customs Procedures (ACP) and our firm plays that role.

3. Product Registration
 You provide us with product detail, image, and specific description and then we not only translate it but also modify it to adapt to Japanese consumers preferences. Basically Japanese consumers love very informative description.

4. Customer Support
 Our firm receives emails from customers and handles them with your supervising. We also handle returned products from customers.

5. Ongoing Support
 We recommend you to outsource managing your product pages on amazon Japan to our office. We continuously improve expression of products description and ads on amazon on your behalf with analyzing access information and purchasing results.

6. Public Relation
 Very innovative products can't be automatically sold with pull strategy because consumers don't search products without knowing what they are. We help you get media exposure for your products by sending news release to appropriate media and execute consumer promotion mainly online.
Who We Are – Fenetre Partners
 Fenetre Partners is a leading consulting firm of trade, investment, and international marketing, based in Tokyo, Japan. Our clients range from governmental organizations to private corporations in the US, Germany, UK, Australia, Singapore, Hong Kong, South Korea and Japan. Our expertise is deep and varied, complete with a solid understanding of the Japanese market and its business culture, which is essential to businesses desiring to enter this market. Founded in 2008, Fenetre Partners employs 31 staff members and has conducted international projects for over 350 companies in the past 13 years.
Fenetre Partners, Ltd.
INAC Bldg. 4F, 5-18-23, Roppongi, Minatoku, Tokyo 106-0032
TEL: +81 3 6697 4871
FAX: +81 3 4496 6035
E-mail: Please click Here