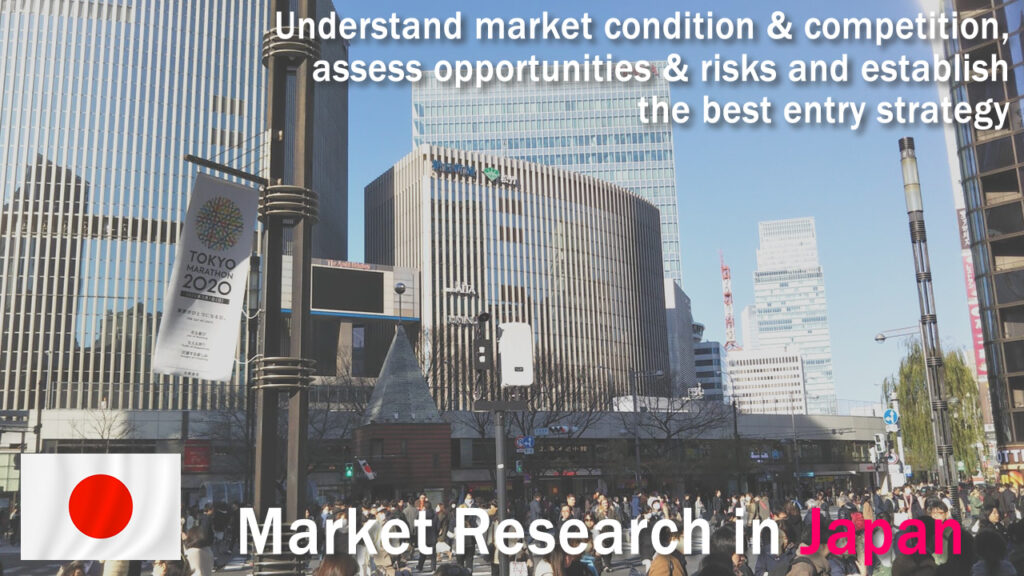 Before making the decision to enter the Japanese market, it is critical to assess the market opportunities and risks. Basic information such as market size, its growth rate, potential competitors, customer needs, distribution channels, laws and regulations would be required to decide whether to enter this market. We offer various types of market study by collecting primary and secondary data from statistics, articles, websites, industry directories, and interviews with both public and private sectors.
 We propose the best entry strategy with options including trade, FDI, outsourcing, and joint venture based on the outcome of the market research.
Market Research in Japan – Framework
 This framework is composed of three steps: 1. statistical market analysis, 2. identification of key players, 3. qualitative research interview.

 First, statistical data published by the public sector should be collected to find the market status. This information should consist of the market size, its growth rate, market share, and data of each product classification that you sell. These data would be beneficial in judging the attractivness of this market.

 Second, key market players including major customers, distributors, and potential competitors should be identified. We collect detailed information on them from websites, articles, and industry directory to analyze customer needs and trend, distribution system and competitors' strength & weakness. This information is used to properly scale the marketability properly and plan the tentative strategy.

Finally, we conduct interviews with key players in order to verify the tentative strategy and to elaborate on the marketing tactics.
Who We Are – Fenetre Partners
 Fenetre Partners is a leading consulting firm of trade, investment, and international marketing, based in Tokyo, Japan. Our clients range from governmental organizations to private corporations in the US, Germany, UK, Australia, Singapore, Hong Kong, South Korea and Japan. Our expertise is deep and varied, complete with a solid understanding of the Japanese market and its business culture, which is essential to businesses desiring to enter this market. Founded in 2008, Fenetre Partners employs 31 staff members and has conducted international projects for over 350 companies in the past 13 years.
Fenetre Partners, Ltd.
INAC Bldg. 4F, 5-18-23, Roppongi, Minatoku, Tokyo 106-0032
TEL: +81 3 6697 4871
FAX: +81 3 4496 6035
E-mail: Please click Here