Trade Support – Export to Japan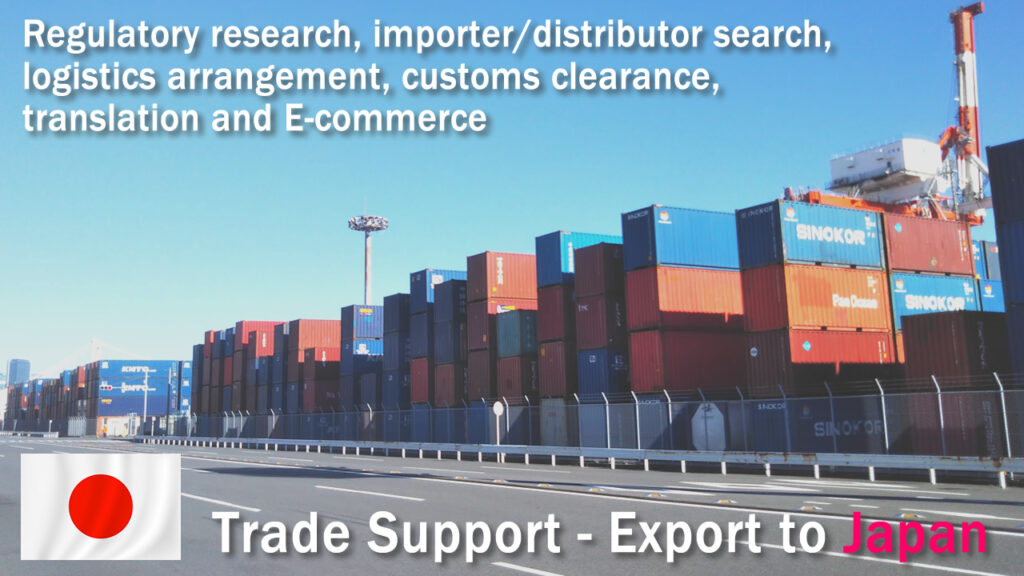 According to the government statistics, total import value to Japan has become double in the last two decades while the number of factory in Japan has become two third. The top rankings of imported goods are occupied with oil and gas, and then cloths and electronics follow. This trend indicates that Japan is on the way to shift from domestic manufacturing to importing manufactured goods and means that the opportunity for foreign manufacturers to export their products to Japan is gradually expanding. Needless to say, the competition is harsh in this matured market but If you produce and sell products with high quality, unique technology or valuable brand, you potentially have business opportunities for exporting your products to Japan.
 Our firm provides potential exporters all over the world with trade support services including regulatory research, importer/distributor search, arrangement of shipment, paper work for customs clearance, translation of website & marketing material, label and package adaptation, etc. on your requests. You can smoothly export your products to Japan with our solid support.
Trade Support (Export to Japan) – Scope of Services
 We have been working for years for the US local governments such as Virginia, Pennsylvania, Mississippi and Iowa to help American companies export their products to Japan. we also have many clients in private sector from the US, Germany, the UK, Australia, Singapore, China, Hong Kong and South Korea. The services we provide vary widely as following.
1. Regulation Research
 Before exploring opportunities of exporting your products to Japan, it is recommended that you understand the trade regulations including restriction, application form, customs clearance, necessary documents, etc. to verify the feasibility of importing your products to Japan. Our firm conducts research and contacts the government on your behalf.
2. Importer/Distributor Search
 If you haven't found importers/distributors, we would like to offer distributor/partner search program to you. We identify candidates, contact them, arrange meetings with them and accompany yo to meetings with them in order to establish distribution channel in Japan. If you want to learn further please click here.
3. Cost Estimation
 We collect cost quotations provided from third parties such as tariffs, duties, warehouse, logistics, customs clearance, inspection, printing packages, etc. for you to estimate total costs of transactions so as to make a business plan of exporting business to Japan.
4. Logistics Arrangement
 Our firm can arrange all the logistics and customs clearance on the requests from you and your importer if needed. Especially in the case that your importer does not have experience of importing products in your field, we can arrange all the necessary things on behalf of them.
5. E-Commerce Support
 Selling your products online such as amazon Japan, Rakuten and Yahoo Japan is very profitable strategy with low costs. We help you register your products pages on those online shopping sites with not only translation but also adjusting product descriptions. If you want to learn further please click here.
6. Translation and Market Adaptation
 We can offer research of package regulation of your products, redesign of label and package in order to localize them, and arrangement of printings. We can also provide you with translation services for your brochure, websites, instructions, manuals, etc. on your requests.
7. Trade Show Support
 Our office can help your application and exhibition to trade shows in Japan with arranging booth decoration, delivery of product samples, translation, and staffing. Following up visitors can be done on our side as well.
Who We Are – Fenetre Partners
 Fenetre Partners is a leading consulting firm of trade, investment, and international marketing, based in Tokyo, Japan. Our clients range from governmental organizations to private corporations in the US, Germany, UK, Australia, Singapore, Hong Kong, South Korea and Japan. Our expertise is deep and varied, complete with a solid understanding of the Japanese market and its business culture, which is essential to businesses desiring to enter this market. Founded in 2008, Fenetre Partners employs 31 staff members and has conducted international projects for over 350 companies in the past 13 years.
Fenetre Partners, Ltd.
INAC Bldg. 4F, 5-18-23, Roppongi, Minatoku, Tokyo 106-0032
TEL: +81 3 6697 4871
FAX: +81 3 4496 6035
E-mail: Please click Here