Short Webinar: Successful Business Development in Japan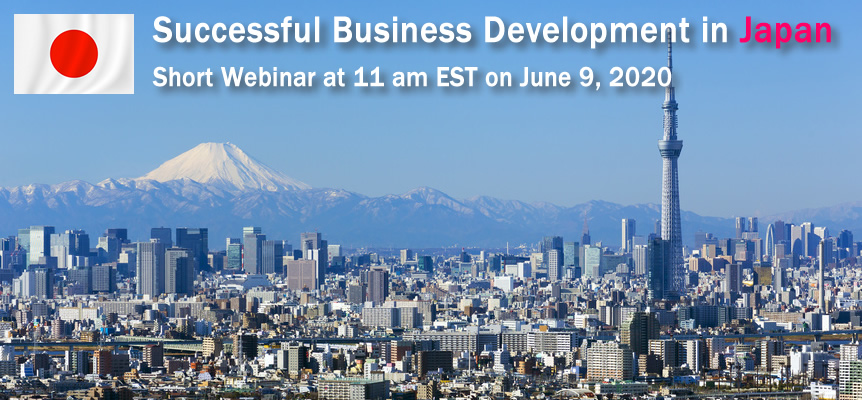 Understanding the Japanese market is the key to success.
How do I set up & manage my sales in Japan? Do I understand the need of my customers, the pricing or the level of service that my customers expect?
Get a first overview with this 
SHORT WEBINAR at 11 am EST / 8 am PST on June 9
.
It explains the typical misperceptions of the economy and industry of Japan and provides the information of business opportunities and challenges for doing business development in Japan.
Program
11:00
Overview of Japan Economy & Industry
Bright side and the dark side of the 3rd biggest economy
Extra: Impact of Corona-Pandemic
11:10
Target Sector 1: Big Global Manufacturers
Are your Japanese customers growing by global expansion?
11:20
Target Sector 2: Solutions for Aging Population
Can your products solve problems related to the aging of society?
11:25
Entry Barriers
Language, culture, distribution channel, consumer preference and so on
11:45
Recommendation
What is a good fit for Japan?
11:50
Q&A
Speakers
| | |
| --- | --- |
| | Satoshi Takayama is director and co-founder of Fenetre Partners Ltd. and has worked mainly for industrial suppliers such as machinery, components, tools, parts, material and the like from the US and Germany on their market entry into Japan. He completed a bachelor's degree in mechanical engineering and earned a Master of Business Administration at Manchester Business School. He is also a licensed representative of the Japan Investment Office of Pennsylvania. Satoshi Takayama has more than 15 years of experience as a technical sales and marketing expert for European and American including Parker Hannifin Japan Ltd., where he received the "Best Seller of the Year" and "Best Employee of the Year". |
| | Yasushi Hasegawa is director and co-founder of Fenetre Partners Ltd. He holds a bachelor's degree in economics and Executive MBA at Hult International and is an authorized trade consultant of Virginia Economic Development Partnership, senior adviser to Enterprise Florida and principle of Great Lakes St. Lawrence Governors & Premiers Japan office. As a management consultant, he has more than 20 years of experience in the Japanese market. Even before Fenetre Partners was founded, he carried out over 100 projects. Among other things in the areas of business start-ups, market research, reshaping of sales strategies, sales development and change management, mainly in the food, IT, telecommunications, pharmaceutical, logistics and video game industries as well as in the retail and foodservice sectors. |
Registration
Please click here and fill out a registration form by the end of May.