Free Short Webinar: Strategic Options for Business Development in Japan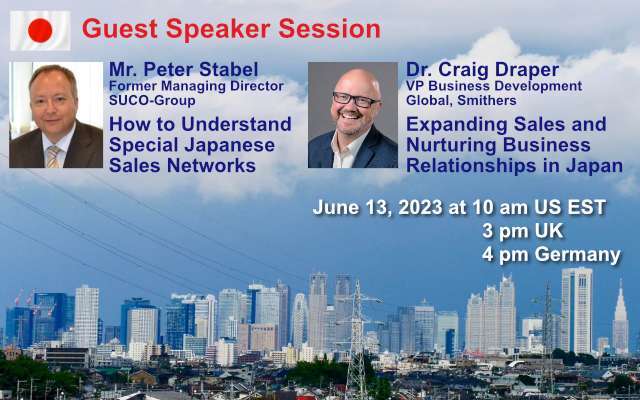 The 3rd biggest market, Japan is still attractive for global industrial players because your potential customers such as automotive, electronics, automation, robotics, healthcare, chemical, etc. are growing by exports and global expansion while the domestic consumer market is shrinking by the three decades stagnant and aging & decreasing population.
There are several options for developing your Japanese customers, which are finding local distributors/agents, setting up your own Japan subsidiary, M&A, JV, licensing and outsourcing of sales & marketing. Each option should have pros and cons, so it's not easy to make a decision without deep insights and experiences with the Japanese market.
We invite two guest speakers to this webinar for sharing their knowledge and experiences about business development in Japan. Both companies have started working with our firm several years ago and have been growing their Japan business steadily. The two speakers explain what they experienced at the beginning, what options they explored, why they have chosen the current option and what they have got.
Get deep insights with this
Free Short Webinar on June 13 Tuesday
at 10 am EST/4 pm CET.
Please click here to register.
 We, Fenetre Partners are a leading consulting company of trade, investment, and international marketing, based in Tokyo, Japan. Founded in 2008 by Mr. Takayama & Mr. Hasegawa, Fenetre Partners employs 34 staff members and has conducted over 400 international projects in the past 15 years. Please find what our clients say to our service level.
Program
(EST)
10:00
Introduction
Quick introduction of our company and guest speakers

10:05
Guest Speaker's Session 1
How to Understand the Very Special Japanese Sales Networks
Mr. Peter Stabel
Former Managing Director, SUCO-Group

10:25
Guest Speaker's Session 2
Expanding Sales and Nurturing Business Relationships in Japan
Dr. Craig Draper
Vice President of Business Development, Global
Environmental Risk Sciences, Smithers

10:45
Wrap-up
Comparison among different options and approachs
10:55
Q&A
Speakers
| | |
| --- | --- |
| | Dr. Craig Draper is Vice President of Business Development, Global for the Environmental Risk Sciences Division of Smithers, a leading multinational provider of testing, consulting, information, and compliance services. He is responsible for strategic relationships and growing the Smithers business in Japan. Dr Draper has twenty years of global marketing, sales, and relationship management experience for leading multinational organizations. |
| | Mr. Peter Stabel is the Former Managing Director of SUCO-Group which is a leading company in the field of fluid and transmission technology. He established the worldwide sales network of SUCO, founded two companies in France and the US, and acquired another company, called ESI in Wrexham, Wales. He was also co-founder of a company pool, established 1998 at the AHK Singapore, with the goal to explore the Asian markets. |
| | Yasushi Hasegawa is a managing director and co-founder of Fenetre Partners, Ltd. He holds a bachelor's degree in commercial science and Executive MBA at Hult International and is an authorized trade consultant of Virginia Economic Development Partnership, senior adviser to Enterprise Florida and principle of Great Lakes St. Lawrence Governors & Premiers Japan office. He currently manages market entry and trade projects between Japan and the global market and has worked on over 200 projects. |
Registration
Please click here and fill out a registration form by June 12.