Free Short Webinar: Reality of Business Development in Japan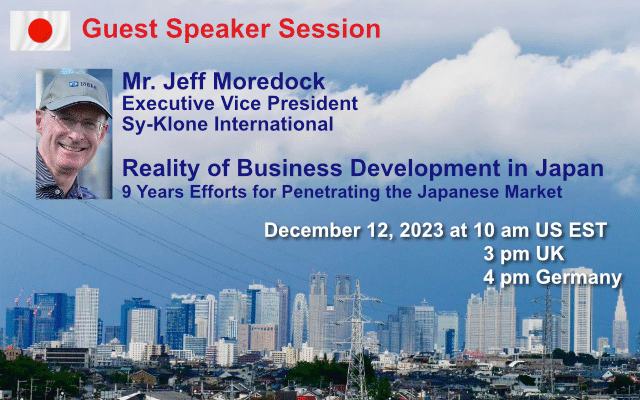 The 3rd biggest market, Japan is still attractive for global industrial players because your potential customers such as automotive, electronics, automation, robotics, healthcare, chemical, etc. are growing by exports and global expansion while the domestic consumer market is shrinking by the three decades stagnant and aging & decreasing population.
However, the business culture and market structure in Japan are very tricky. Japanese customers prefer long term relationship with their current suppliers and usually hesitate replacing them by a new foreign supplier even though your products are innovative. This market entry barrier deters global business development managers from investing in the Japanese market.
We invite a guest speaker to this webinar for sharing his knowledge and experience about business development in Japan. Sy-Klone International has started working with our firm 9 years ago and have been growing its Japan business steadily. Mr. Jeff Moredock will explain why he made a decision of investing in business development in Japan, what kind of challenges he faced and finally what he has got.
Get deep insights with this
Free Short Webinar on December 12 Tuesday
at 10 am EST/4 pm CET.
Please click here to register.
 We, Fenetre Partners are a leading consulting company of trade, investment, and international marketing, based in Tokyo, Japan. Founded in 2008 by Mr. Takayama & Mr. Hasegawa, Fenetre Partners employs 32 staff members and has conducted over 400 international projects in the past 15 years. Please find what our clients say to our service level.
Program
(EST)
10:00
Introduction
Quick introduction of our company and guest speakers

10:05
Guest Speaker's Session
Reality of Business Development in Japan
Mr. Jeff Moredock
Executive Vice President
Sy-Klone International

10:35
Strategic Options for Business Development in Japan
Comparison among different options and approachs
10:45
Case Studies
Key success factors for Japan is usually different from other markets
10:55
Q&A
Speakers
| | |
| --- | --- |
| | Mr. Jeff Moredock is the Executive Vice President of Standards and Regulations at Sy-Klone International. With a decade-long tenure as the Vice President of Sales and Marketing, he established Sy-Klone's global distribution network, including successful expansion into Japan. Jeff brings extensive expertise in international market development, relationship management, and holds a key role as an ISO working group convenor and subject matter expert in the development of international standards. |
| | Yasushi Hasegawa is a managing director and co-founder of Fenetre Partners, Ltd. He holds a bachelor's degree in commercial science and Executive MBA at Hult International and is an authorized trade consultant of Virginia Economic Development Partnership, senior adviser to Enterprise Florida and principle of Great Lakes St. Lawrence Governors & Premiers Japan office. He currently manages market entry and trade projects between Japan and the global market and has worked on over 200 projects. |
Registration
Please click here and fill out a registration form by December 11.