Sales Rep for Machine Tool [Showcase updated]
 The client is a manufacturer of machine tools, which entered the Japanese market in 2009. Through test marketing activities, the client understood the two key success factors in the Japanese industrial market as follows.
 First, they needed several layers of distribution channels due to the Japanese business culture. Second, the push marketing strategy does not work in the multiple layers of distributors. Thus, we established four layers of distribution systems and started applying pull tactics, such as SEM by Google AdWords and Yahoo.
 As a result, the number of inquiries has increased dramatically, and the sales revenue has been increasing steadily after the test marketing period as evident in the following chart.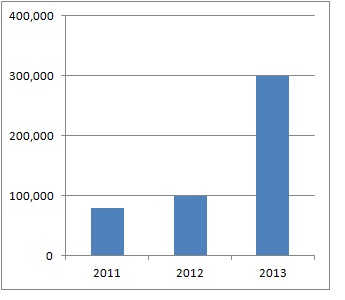 Unit:USD